If your once beautiful, icy blonde shade has taken on an undesired yellow tinge, you're no doubt struggling with brassy hair. Don't panic, though! We show you how to get rid of brassy hair and roots using purple shampoo and targeted toning treatments. Ready? Brass-free hair awaits! 
What Is Brassy Hair? 
Let's start with the basics: what is brassy hair? Brassiness refers to the unwanted warm tones that show up in coloured hair. 
All hair colours have a natural brassy undertone (think yellow undertones for light brunettes and blondes, and red and orange undertones for black and dark brown hair). When hair is lightened with bleach, those natural pigments are lifted or diluted.  
Over time, however, the natural yellow, orange or red undertones become visible again. The result? Brassy hair!  
What Does Brassy Hair Look Like?
Brassy hair looks warmer and more yellow than freshly-toned hair. It often looks brassier at the roots. See, for example, the 'before' image below: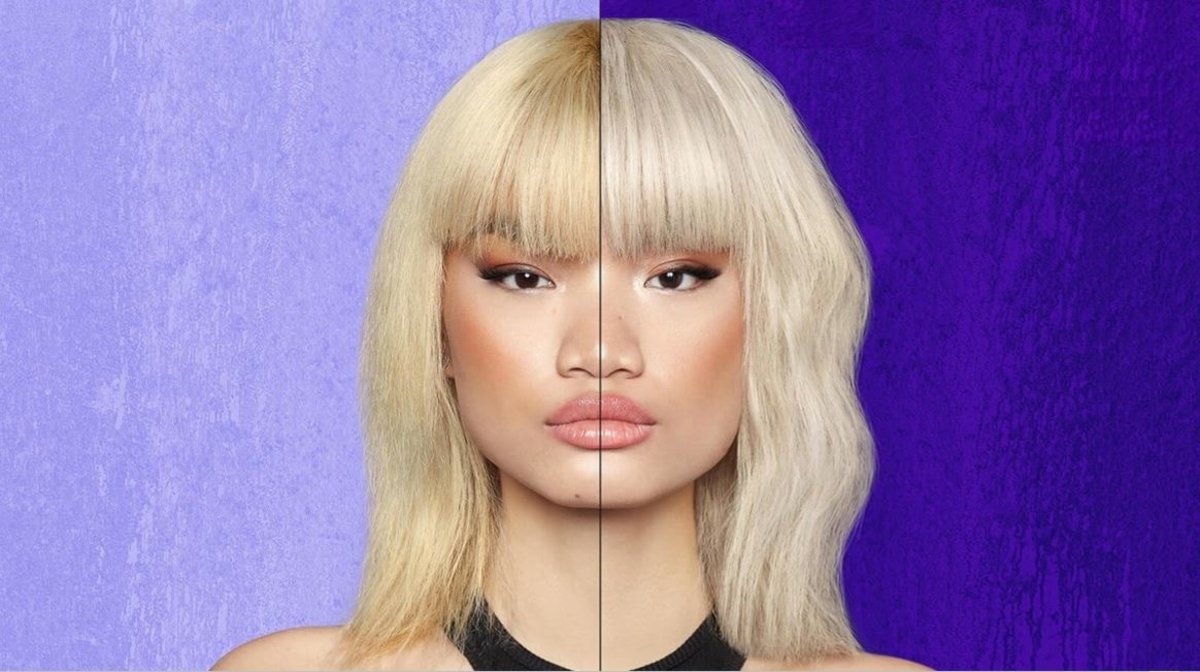 How To Get Rid Of Brassy Hair 
Getting rid of brassy hair is quick and easy with a few top tips and tricks…
Buy now

with Fudge

Using a weekly toning treatment, like a powerful purple shampoo, is a great way to get rid of brassy undertones. The violet pigments in the shampoo will help neutralise those unwanted yellow tones and leave your colour looking cool and refreshed.  

To get rid of brassiness, why not try our Clean Blonde Damage Rewind Shampoo and Conditioner? These two toning essentials are formulated with salon-strength violet micro-pigments that instantly knock out unwanted brassy tones, as well as our repairing and strengthening Opti-Plex™ technology. Use once a week in place of your regular shampoo.  

Buy now with free delivery

Buy now

with Fudge

The easiest way to maintain your salon colour is to prevent brassiness altogether. A daily toning treatment, like a mild, everyday purple shampoo, will do the trick nicely!  

Luckily, we've created the FUDGE EVERYDAY CLEAN BLONDE DAMAGE REWIND SHAMPOO and CONDITIONER. Designed to be used every time you wash your hair, they work together to gradually remove yellow tones and help maintain salon-fresh colour without over toning the hair. They're also formulated with our Opti-Plex™ technology to strengthen and reverse chemical, styling and environmental damage.  

Buy now with free delivery

Buy now

with Fudge

If you're only looking to tone your roots, we recommend using a no-rinse targeted treatment that can be sprayed directly onto the brassy area, without affecting the rest of your hair.  

Our Clean Blonde Violet Tri-Blo purple toning spray boasts professional-strength purple micro-pigments that instantly knock out brassy, yellow tones! Simply spritz onto the desired area while hair is still wet, then blow dry to reveal blonder, stronger and smoother tresses with masses of shine. 

Buy now with free delivery