Clean Blonde Damage Rewind VS. Everyday Clean Blonde Damage Rewind? We break down the difference to help you find the solution to finding your perfect haircare routine.
The bane of every Blondeshell's life is when their once white blonde turns brassy. Unfortunately, there's no escaping it – whether you're a natural blonde, or a dabbler in bleaching, every blonde has brassy tones. Fresh from the salon, the icy blonde tones will last for a while – but eventually, pollution, sunlight, damage from styling and even the water used to wash your hair will start to reveal those warmer, yellow tones.
We all know by now that purple shampoo is the answer, but the question is – which one? We get asked all the time – Clean Blonde Damage Rewind or Everyday Clean Blonde Damage Rewind? Our very own Fudge Professional breaks the Clean Blonde ranges down for you in this blog, helping you achieve your dream colour.
Why Damage Rewind is so Important?
There is no denying that bleaching can ruin your hair – but with the correct care, there is no reason why you need to give up your blonde in order to optimise your hair's health.
The use of bleach opens the hair to remove your hair's natural colour. 'This can leave your hair dry and coarse to the touch, and often prone to damage or further resulting in split ends. YIKES! The Damage Rewind formula works to reverse the damaging effects of bleach, using Opti-Plex technology to reconstruct bonds and smooth the cuticle to rectify breakage caused by chemicals, styling and the environment.
We promise that your hair will be 95% stronger and 10x smoother after usage – so you don't have to choose between toning and repair.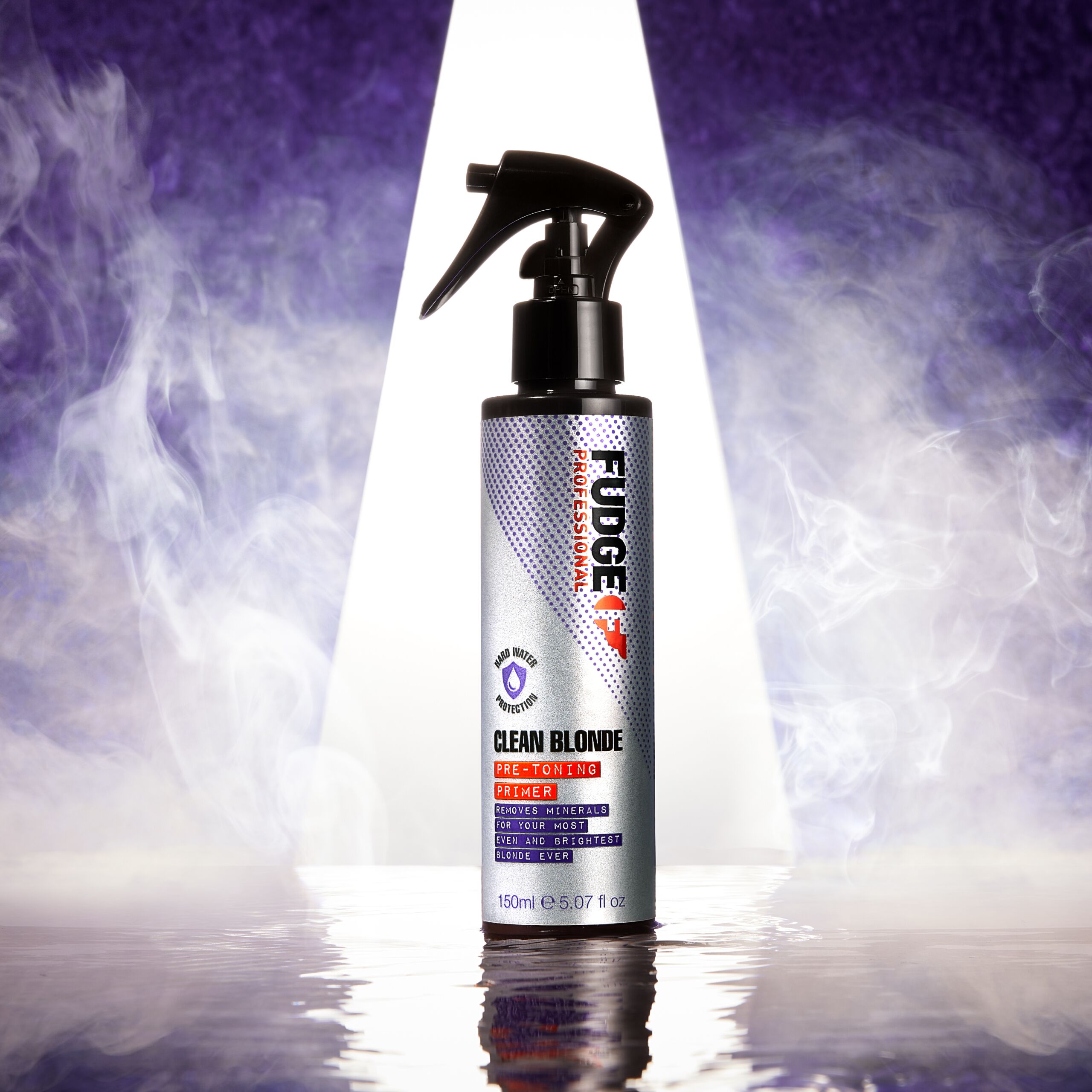 First things first, the perfect toning routine requires a perfect clean base. Nobody wants a patchy colour, so to ensure a true Clean Blonde, kick start your routine with our NEW Clean Blonde Pre-Toning Primer. Apply the primer to dry hair, leaving on for 2 minutes before rinsing off to remove colour distorting and damaging copper ions from the hairs surface in preparation for your most even blonde ever.
Our Clean Blonde Pre-Toning Primer itself deposits no colour onto the hair – but instead prepares tresses for the toning routine to follow. Its CopperCleanse technology helps you achieve your cleanest, healthiest blonde yet, and is vital for the perfect toning regime.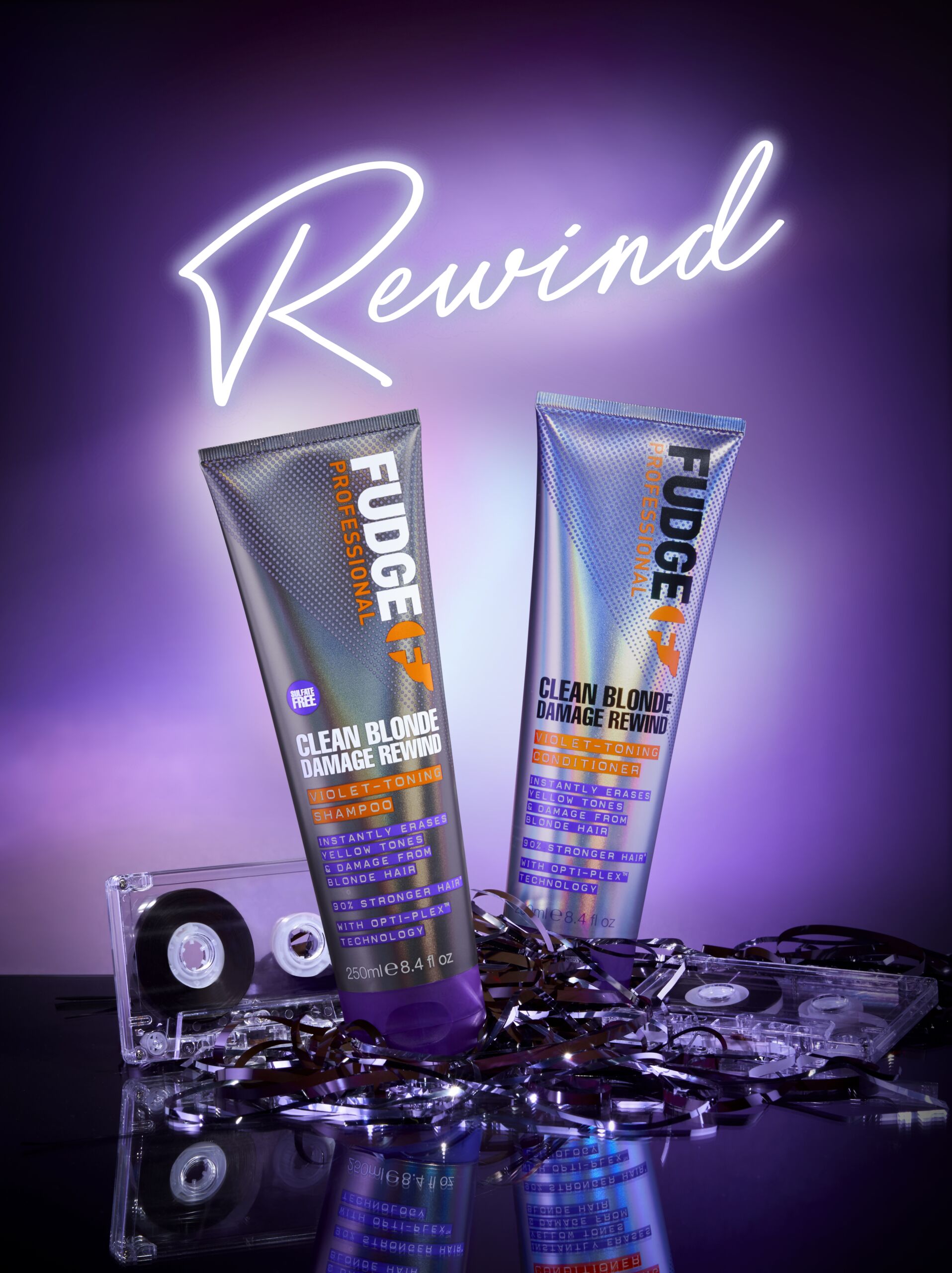 We are proud to produce the strongest purple shampoo on the professional market, in the form of Clean Blonde Damage Rewind. This is our range for fearless bombshells; whether you've had a bleaching blunder or are just craving the whitest blonde possible, washing with Clean Blonde Damage Rewind Violet Toning Shampoo and Conditioner instantly banishes that brassiness. Using this range once a week helps achieve that salon fresh blonde from the comfort of your home – and all it takes is one wash to instantly transform your tones.
Here at Fudge Professional, we care about your hair. This range prioritises both colour and care, providing powerful toning combined with Opti-Plex technology to build the whitest, silkiest blonde yet.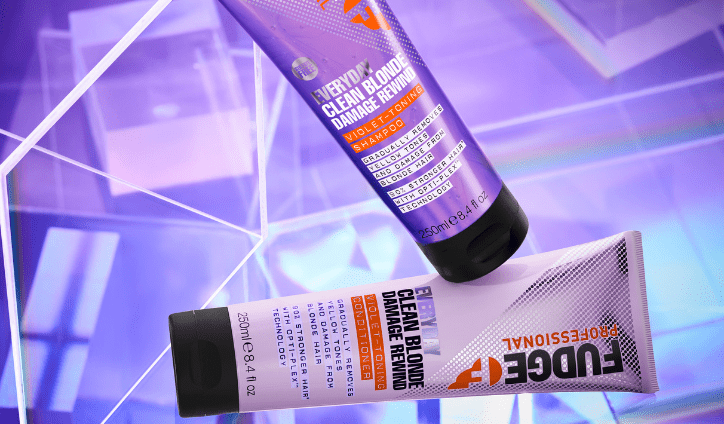 'But I worry that purple shampoo will leave my hair bright purple!'
We hear you! We know purple shampoo can be daunting, and while we have the strongest on the professional market – we also have a less intense alternative, that can be used everyday!
For our blondes who prefer a more subtle and gradual toning effect – Everyday Clean Blonde Damage Rewind is for you. Made for everyday use, this shampoo and conditioner gradually tones to achieve a salon fresh colour. Everyday Clean Blonde provides subtle toning, sustainably eradicating brassy tones with every use. Still formulated with our Opti-Plex technology, the care benefits are instant, so after just one wash your hair will feel noticeably smoother and healthier.