Tired of split ends? Trust us, so are we! That's why we've created the below guide to explain what causes hair to break and how to prevent split ends with the best split end treatment for you. Ready? Healthy hair awaits… 
What Causes Split Ends?
Split ends go hand in hand with dry, brittle hair. Using heat or chemical products can cause individual strands to break and separate, just as washing, styling and tying hair up can lead to damage.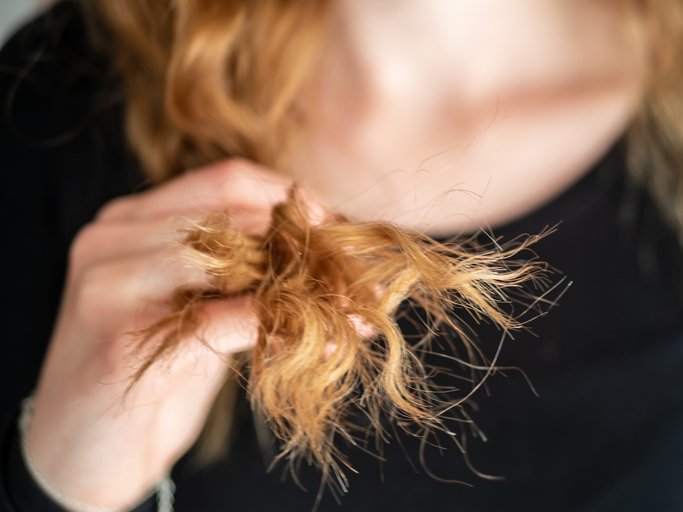 We've all struggled with split ends at some point, so you're not alone – and now you know what causes the hair to break, you can focus on fixing the damage. 
How To Prevent Split Ends
When it comes to getting rid of split ends, the only option is to cut them off. However, there are split end treatments and lifestyle changes that can prevent future breakage. 
Get Regular Trims
Getting your hair trimmed every 6-8 weeks is one of the best ways to prevent split ends. 
If the split ends aren't cut, they will travel up the hair shaft, resulting in frizz. Regular trims instantly remove damage and welcome faster growth for stronger hair. 
Use Heat Protection
Where possible, try and use heated tools as little as possible. Of course, we know it's not always that easy – so when you need a quick blow dry or an emergency straighten, always remember to use heat protection spray. Your new best friend, it can help prevent damage and split ends.  
Use our Tri-Blo Heat Protecting Hair Spray to improve cuticle health and leave hair feeling strong and looking smooth. Powered by our Invisi-Shield Technology, this spray protects and defends against heat damage up to 230°C. Simply spritz onto towel-dried hair before blow-drying to keep damage at bay. Alternatively, our BLOW DRY AQUA PRIMER offers heat protection up to 230°C, while hydrating hyaluronic acid keeps hair moisturised, soft and smooth.