Tired of having blonde envy? It's time to welcome purple shampoo into your life! It's a revolutionary product that every blonde should have in their haircare routine – and if you don't believe us, just check out the jaw-dropping results for yourself with these purple shampoo before and afters.  
Why Use Purple Shampoo?
Ever noticed your blonde hair looking on the yellow side? Not the one. Purple shampoo is a violet-tinted cleanser that works to neutralise those unwanted brassy tones.  
Purple and yellow are opposites on the colour spectrum, meaning that they effectively cancel each other out, restoring your blonde to its once cooler, more vibrant shade.   
Purple Shampoo Before And After
Wondering which purple shampoo you should use? Take a look at these purple shampoo before and afters to see which product will best revolutionise your blonde. 
Instant Toning
If instant yellow-taming results are what you're after, try our CLEAN BLONDE DAMAGE REWIND PURPLE TONING SHAMPOO and CLEAN BLONDE DAMAGE REWIND PURPLE TONING CONDITIONER. They work together to erase brassy tones in an instant, perfect for those looking for rapid results.  
Not only are they fabulous for toning your blonde, but they keep hair nourished to combat all kinds of damage. Our unique Opti-PlEX™ technology works its magic to reconstruct bonds and smooth cuticles after chemical, styling and environmental pressures. 
Check out this purple shampoo before and after – enjoy maximum benefit and the same powerful result with weekly usage of the shampoo and conditioner.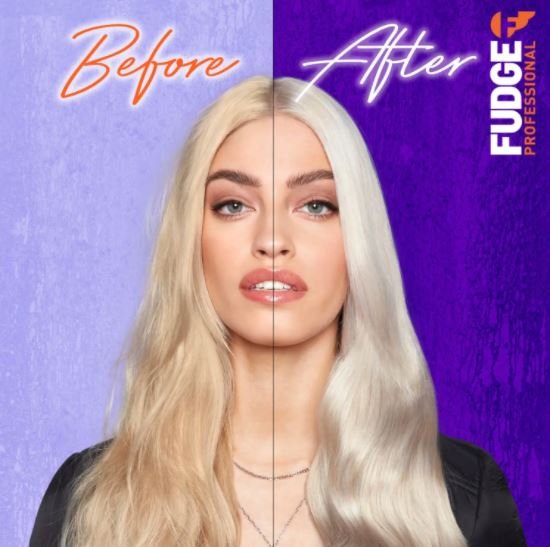 Gradual Toning
For mild toning effects suitable for daily use, check out our EVERYDAY CLEAN BLONDE DAMAGE REWIND PURPLE TONING SHAMPOO and EVERYDAY CLEAN BLONDE DAMAGE REWIND PURPLE TONING CONDITIONER. It's the perfect duo for maintaining your icy, salon-fresh blonde in between appointments.  
For a bright, vibrant blonde, use daily to gradually tone hair and keep the colour looking fresher for longer. Rich in restorative ingredients, this purple shampoo and conditioner also work to reverse damage caused by colouring, heated styling and environmental aggressors, promoting strong, healthy hair. 
Think this is the one for you? See the results for yourself with this purple shampoo's before and after image. These show-stopping results occur after just 6 washes of using the shampoo and conditioner together.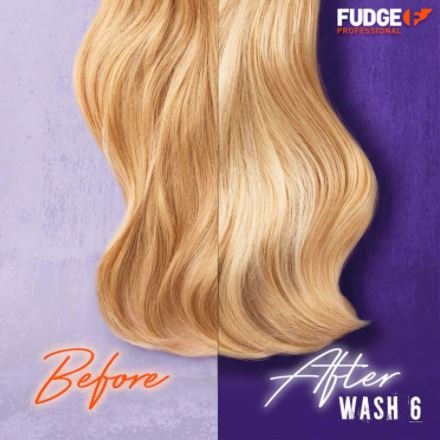 In Awe Of These Before And Afters? Here's How To Achieve The Same Results
Step 1: Choose The 
Best Purple Shampoo
 For You
Whether you've recently had your colour done at the salon and want to maintain the blonde until your next visit, or you're weeks into your blonde and could do with a quick yellow-toning remedy, there is a perfect purple shampoo for you.  
Choose either our weekly or daily treatment, depending on the results you're after.