With a huge range of waxes, gels, pomades, and clays to choose from, it can be difficult to decide which men's styling products to use. While you no doubt know the difference between hair waxes and gels, hair clays and pomades may leave you a little stumped. Put simply, there's no winner in the hair pomade vs clay debate. The best product to use depends on hair type and the style that you want to create! 
We talk you through the difference between clay and pomade styling products and advise on the best pomades for hair and hair clays for men so that you can keep your signature trim firmly in check. 
What's The Difference Between Clay And Pomade? 
The major difference between clay and pomade styling products for men is the finish and the strength of hold that they give. 
What Is Hair Pomade? 
Pomades for hair typically create a high shine look with a medium to strong hold in short to mid-length hair. They're the ideal styling product to use if you're after a retro style or sculpted contemporary look. If you're using a pomade, you can be sure that your trim will stay firmly in place all day. 
What Is Hair Clay? 
Hair clays are very versatile, adding volume and texture to both long and short styles. A hair clay contains naturally occurring clays (who'd have guessed?!), such as bentonite and kaolin, that nourish the scalp while holding hair in place. Offering a natural-looking matte finish, hair clay for men is great for creating an artfully undone look.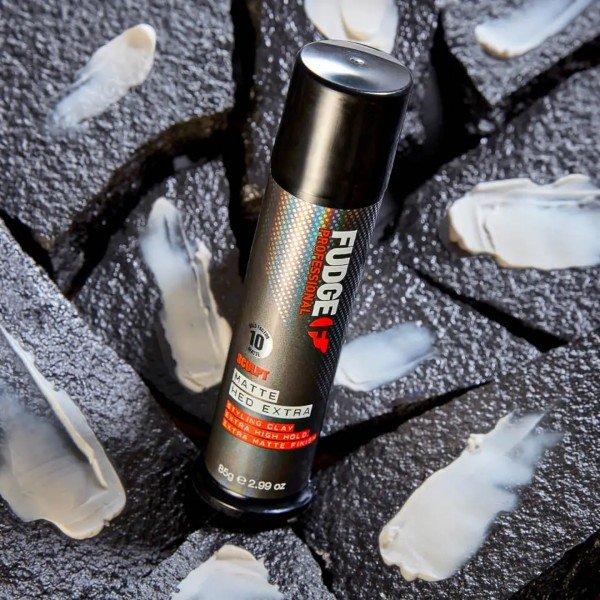 Pomade vs Clay: Which Should I Use? 
Fudge Pomades For Hair
For a high-shine look and medium hold
If you're looking for serious shine with a medium-strength hold, our FUDGE VINYL POMADE  is the ultimate hair pomade for men. Whether you prefer a retro slicked-back look or a contemporary sculpted style, our versatile pomade will smooth your signature hairstyle into shape. A nourishing infusion of coconut oil delivers condition and shine, so you don't have to choose between hold and hydration. 
Apply a coin-sized amount of pomade to dry hair and comb through to create your desired look. After a minute or so of drying time, you'll be sporting a high-shine style that's certain to stand out for all the right reasons.