If you dream of having clean blonde hair or cool brunette tones, but constantly struggle with yellow and orange brassiness, then listen up. We've found your secret weapon to keep slaying those gorgeous, sleek-looking tresses that define your look: hair toning.  
Not sure what hair toning is, how it works or how to do it? Don't worry, we've got you covered with this guide… 
How Does Hair Toning Work?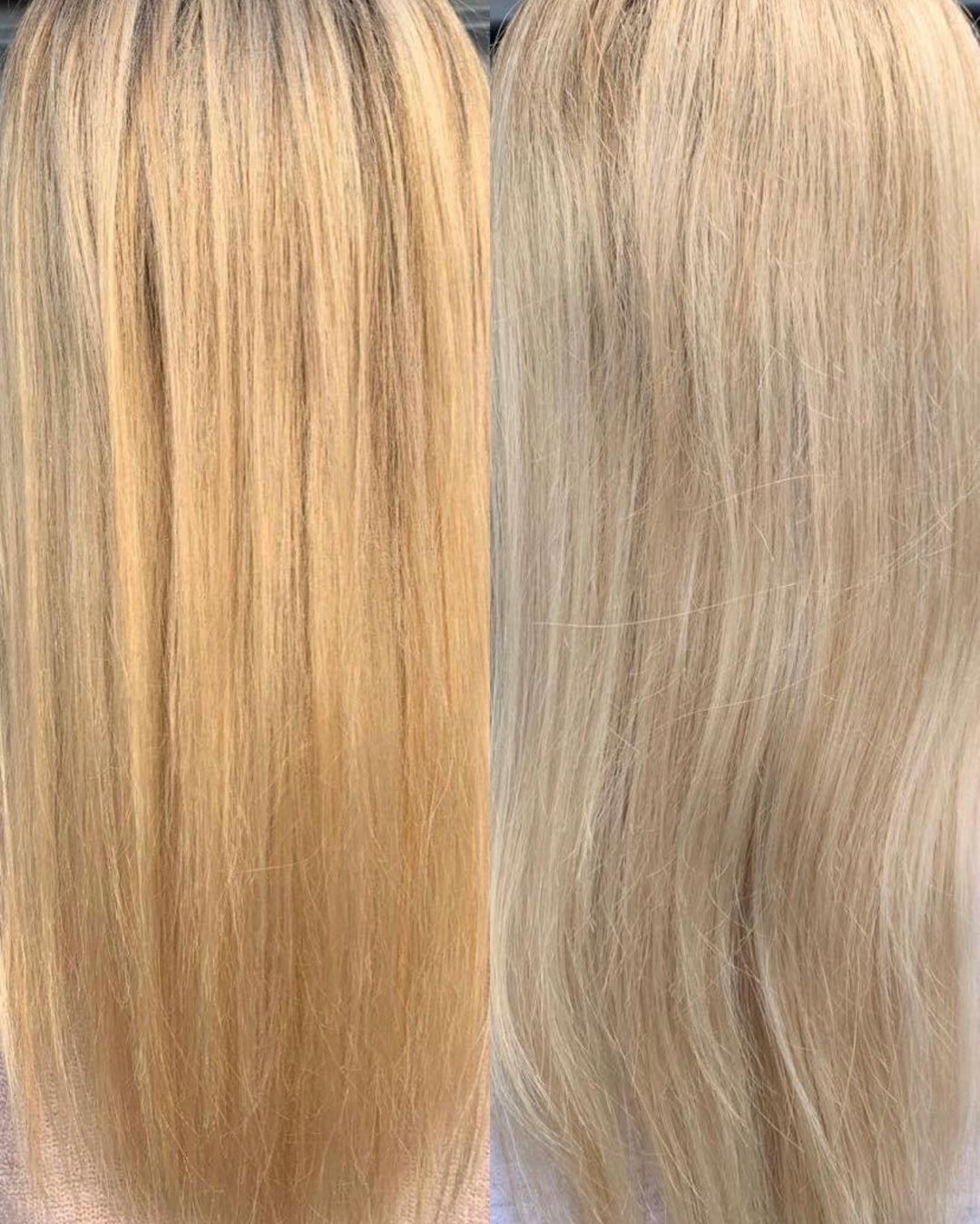 Bad news for the wannabe blondes out there: unless you have naturally very light hair, your tresses will have warm, yellow pigments in them. Likewise, naturally deep, dark brown hair has warm orange and red pigments in it. It is those pigments that are responsible for the unflattering undertones in your hair and can make both natural and died tresses look brassy (yes, even if you bleach!). That's where hair toning comes in.  
You see, hair toning works to change those brassy undertones. It won't entirely alter your natural hair colour, but it will manipulate the shade and instantly wipe out those unwanted yellow or orange and red tones. It's the key to a shinier, healthier and more-natural-looking shade that will definitely turn some heads. 
What Are 
The
 Benefits 
Of
 Hair Toning?
Enhances Your 
Colour
Toning really is the best way to preserve your unique look! By neutralising unwanted undertones, it breathes new life into your colour, making it look cooler and brighter with added oomph.  
Fudge Tip: for brighter, healthier colour, always follow the instructions on your hair toning products. 
Increase
s
 Time Between Salon Visits
Let's face it, whilst a trip to the hair salon is always fun (we love a good shampoo head massage!), it can be expensive and time consuming. Hair toning, however, keeps your colour fresher for longer, so you don't need to have your hair bleached or dyed as often. 
Strengthens Your Hair

 
Choose the right toning product and it can also strengthen your locks, repair damage and add shine to your hair, making your whole mane look fuller and healthier, with an added dimension of colour.  
Fudge Tip: The unique opti-PLEX™ technology in our haircare products does just that *wink wink*.  
"When it comes to maintaining your hair colour, toning is essential. You'll be surprised how much longer your colour stays looking its best."
@Jonathan Andrew, Fudge Global Brand Ambassador 
Who Can Benefit 
From
 Hair Toning
?
Hair toning isn't just for the sassy blondes out there, it can do wonders for brunette, grey and multi-tonal hair with highlights or a balayage too. All you need to do is choose the right toning product to neutralise your existing colour (more on that below), leave it on for the right amount of time to banish those unwanted tones, and bring out that gorgeous depth in your colour that you want to see.
What Are 
The
 Best Hair Toning Products?
The easiest way of erasing brassy tones and freshening your colour is by using a toning shampoo and conditioner once a week, then topping up with violet-tinted styling products.
For
 Sassy Blonde
s
Forget about blonde envy. You can achieve your best blonde yet thanks to purple shampoo. Our Clean Blonde Violet Toning Shampoo knocks out brassiness in an instant. The violet pigments cancel out those yellow tones and switch up your colour for a cool, brighter blonde. Oh, and it cleanses your hair too! All you need to do is lather it evenly through wet hair (make sure you use gloves!) – leave it in for 1 minute to banish brassy tones, or up to 5 minutes for a cool, icy blonde. Quick warning though, the longer you leave it in, the more it will take on a grey tint.
Fudge Tip: To maximise the benefits, you'll always want to use your purple shampoo with purple conditioner. Our Clean Blonde Damage Rewind Violet Toning Conditioner has all the toning benefits of the shampoo, whilst also making your tresses stronger and healthier thanks to our opti-PLEX™ technology.